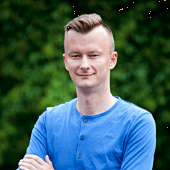 Jarek Wojczakowski
CEO – Executive Board
Co-founder of Vivid Games in 2006, Jaroslaw is a graduate of the University of Technology and Life Sciences in Bydgoszcz with telecommunication and multimedia as his field of study. As one of Poland's most talented programmers, Jaroslaw has achieved international acclaim after winning a host of worldwide coding contests. After 16 years in the industry – nine of which have been spent in games development – he is expanding his passion for programming while gaining extensive management experience and business knowledge.
Jaroslaw's considerable programming expertise allowed him to create the powerful and unique V-TECH technology, which quickly helped to establish Vivid Games as one of the most important and valuable mobile developers in the world. Thanks to his enthusiastic character and diverse experience he is able to achieve far-reaching goals, create intricate development plans and, most importantly, execute them effectively.
Specialties:

- Programming for various platforms,
- Projects management,
- Systems and engines architecture.